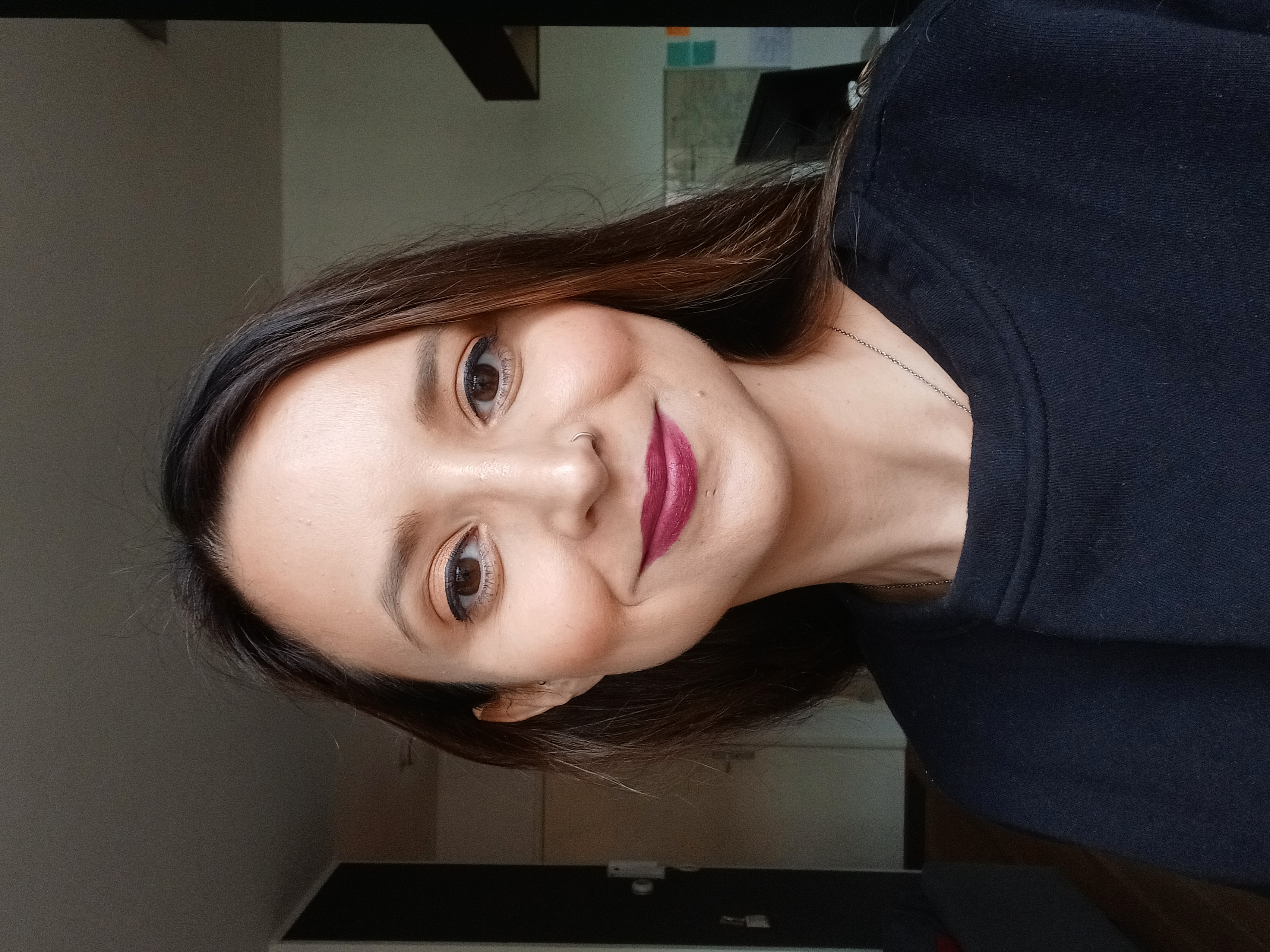 Vaccinations made easier
Simplifying lives by helping our customers book vaccinations and their trip to the centre.
The problem
Vaccination centres were popping up everywhere and it was difficult to find out about their locations, business hours and the type of vaccines on offer. We wanted to do something to not only make it super easy to get our customers to their vaccinations, but also to give them enough information to make decisions to suit their needs best.
The solution
In line with our company mission of "Simplifying lives" we wanted to go above and beyond our current goal of making sure that we adhere to strict safety measures to keep our customers and Captains safe during rides. We decided to, in addition to assisting with Covid and PCR test education, help our customers in booking their vaccinations and taking them to their appointments. (check readability)
We'd provide vaccination centre information and the capability to book a ride to your chosen vaccine location.
The process
First things first, we needed to make users aware of our new feature. So for discovery we created a widget to appear on the Super App homepage.
(this is not the whole process?)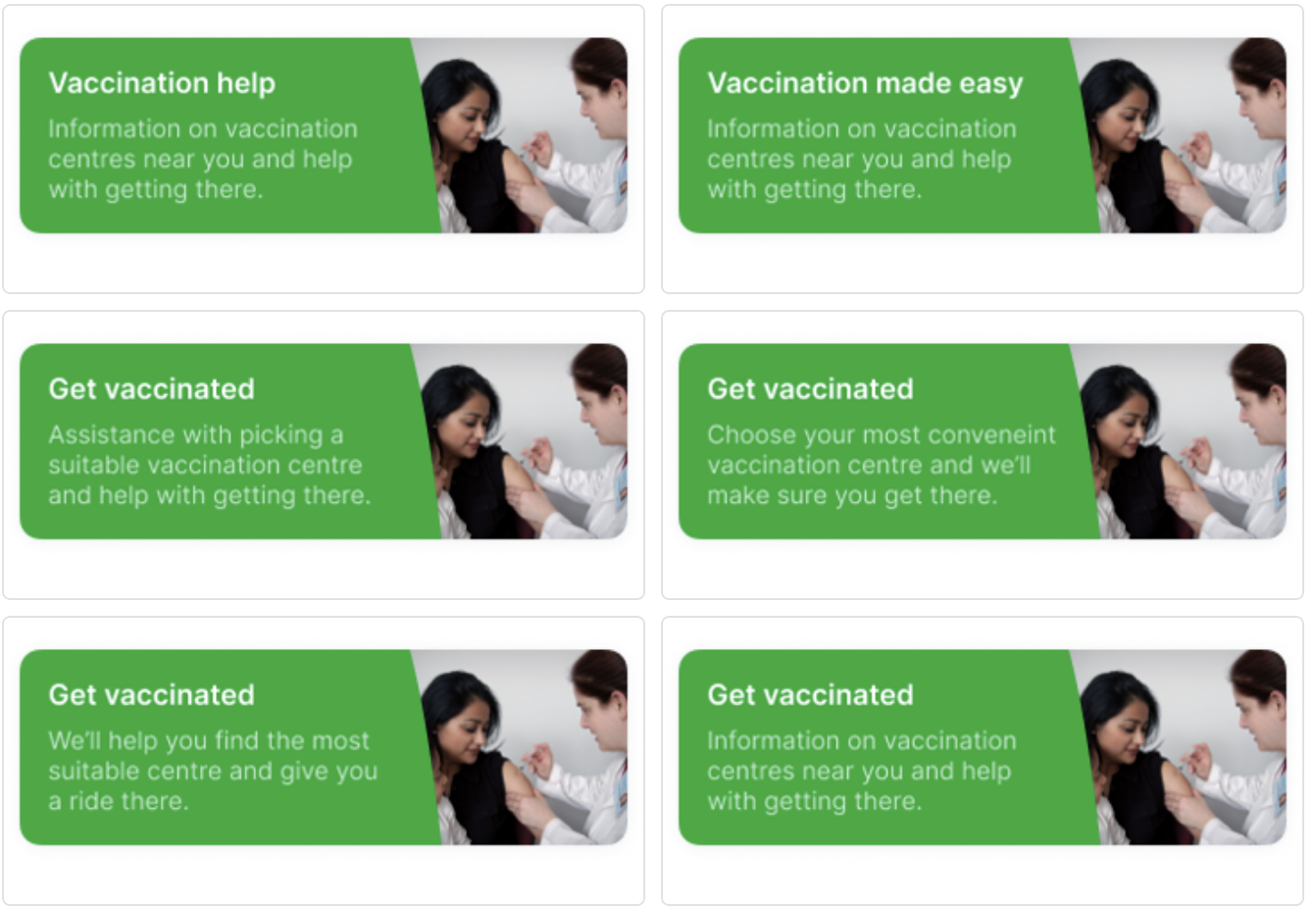 The Project Manager and I chose the option below left. Widget design/layout evolved slightly to have a tile name, a header, body copy and a CTA and I adapted the copy to work within the new look.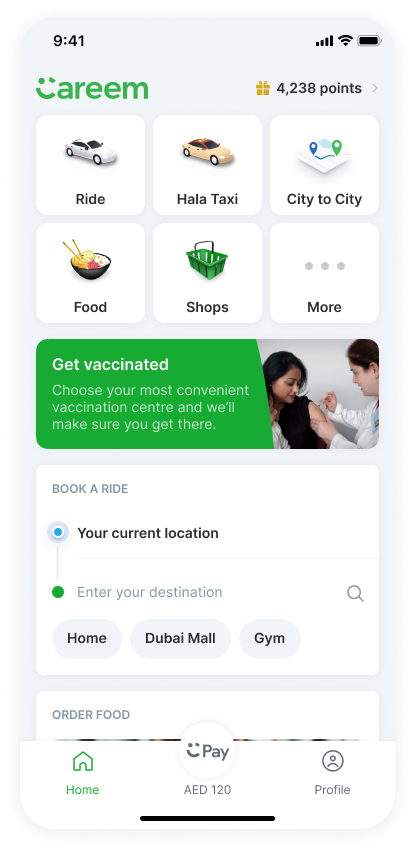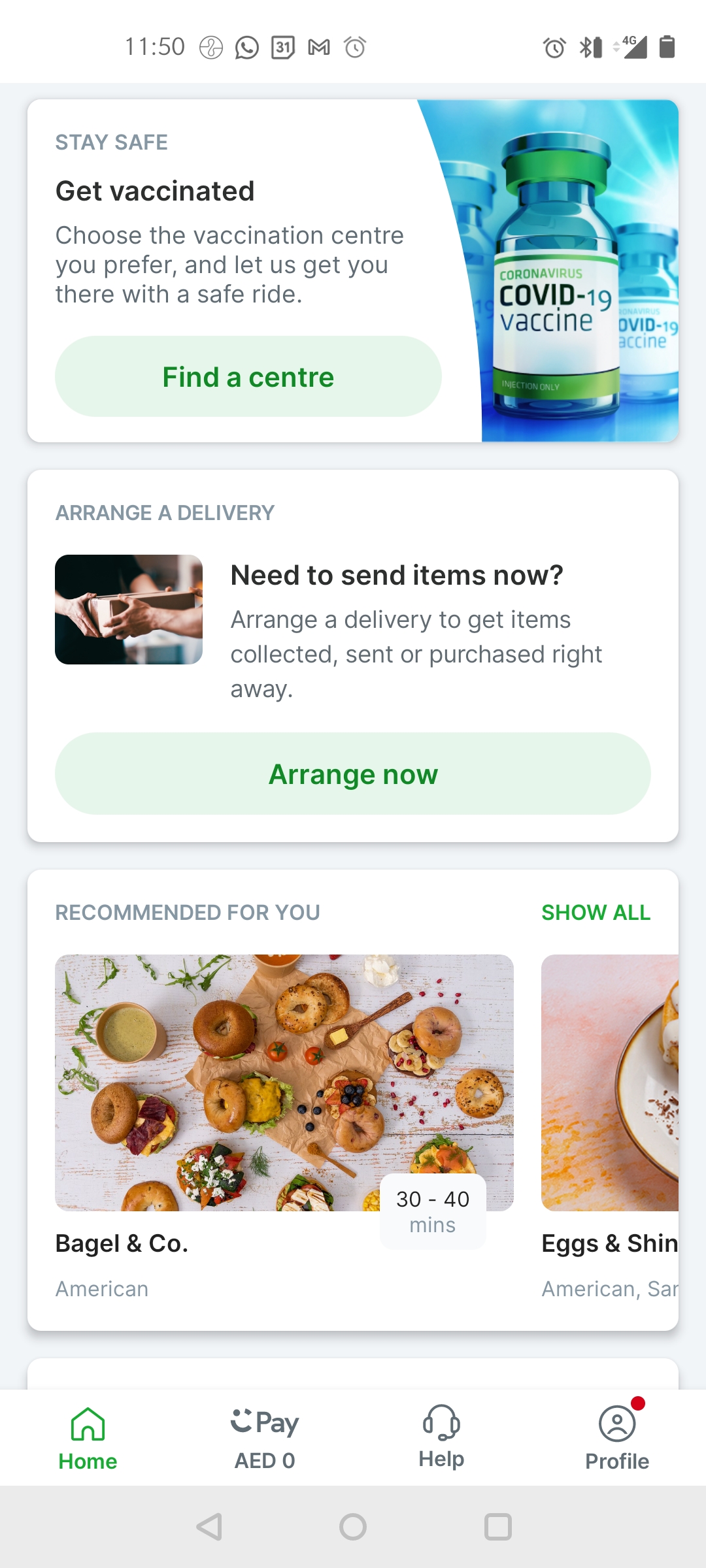 Next step was to look at the actual vaccination centre information page that would follow from the "Find a centre" CTA (above right).
The fist copy requirement I worked on here was instructional, letting the user know what action to take on this page. based on resources/capabilities we thought we had at the time,I suggested:
Vaccination centres in Dubai
Choose the centre you'd like to visit and we'll organise your ride there.
Not ready yet? Tap the star to save the location for later.
Due to tech limitations we were unable to specify the relevant city and the save for later option would also not be possible in the first iteration. Amended as follows:
Vaccination centres near you
Choose the centre you'd like to visit and we'll organise your ride there.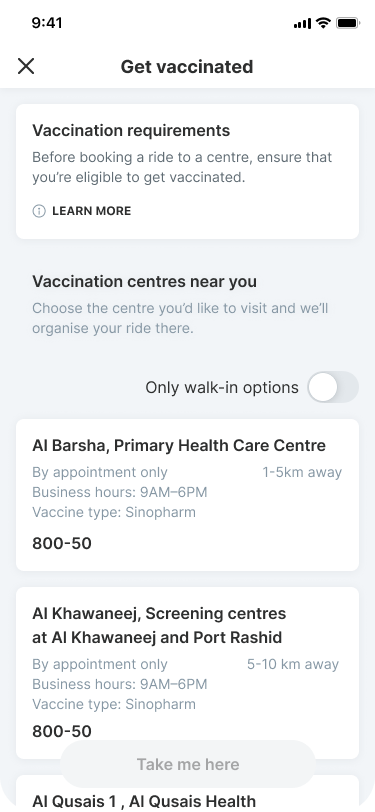 The CTA on the vaccination centre page (left) was "Book a ride". The Project Manager and I discussed this and I suggested that this would be too generic as it also appears on our standard ride hailing screen and that we could try something more specific to this context: "Visit this centre","Go here", Take me here". We agreed on the latter.
To better inform the user we needed to add some rules/requirements in terms of booking a vaccination centre. (left, top of the screen).
My initial copy suggestion was:
Vaccination process and requirements
Ensure you're familiar with the eligibility
rules in your region before you book a
vaccination.
Amended the above copy based on PM feedback. (message should focus on the ride, should fit into two lines.)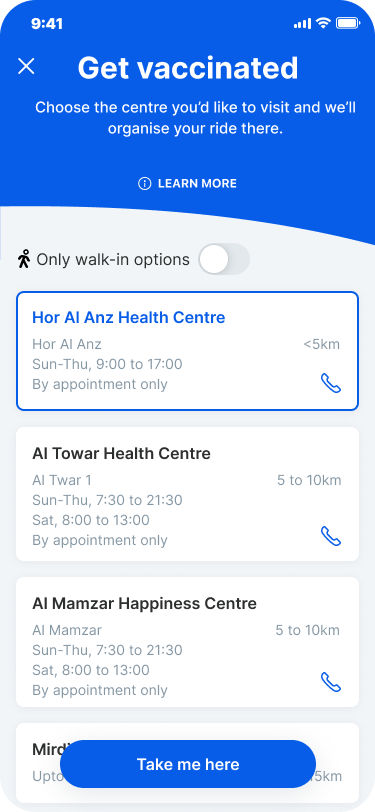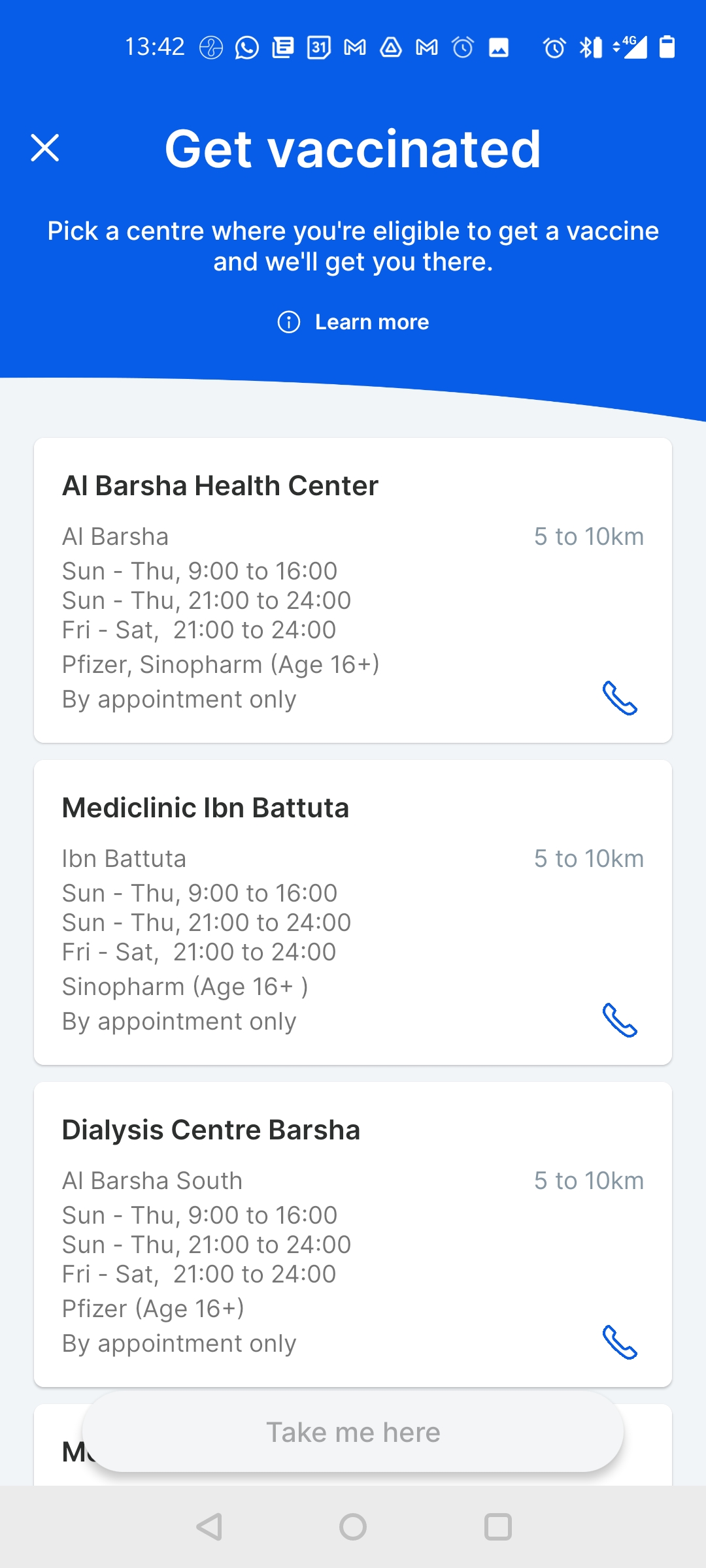 The design and copy evolved to what is currently live (above right). In the final copy we mention eligibility to emphasise the fact that some "homework" is required from the user and that they should make sure that they only choose centres where they can actually get vaccinated. Since some people are particular about which vaccine they want. we added this information to the tiles. We removed the filtering option because of limited tech resources and also because, in the case that no walk-in options are available, it could lead to a negative and confusing experience. Consistency issues based on the Content Style Guide were also rectified.
By the end of this iteration, more resources became available so we added more features like an option to share centre information, feedback flow, multi-filter capability etc.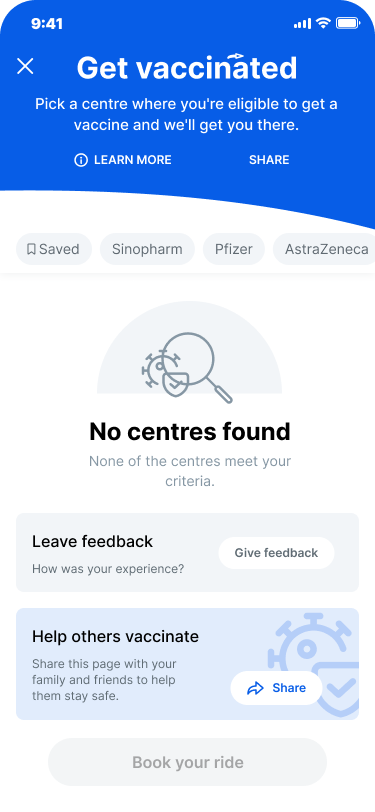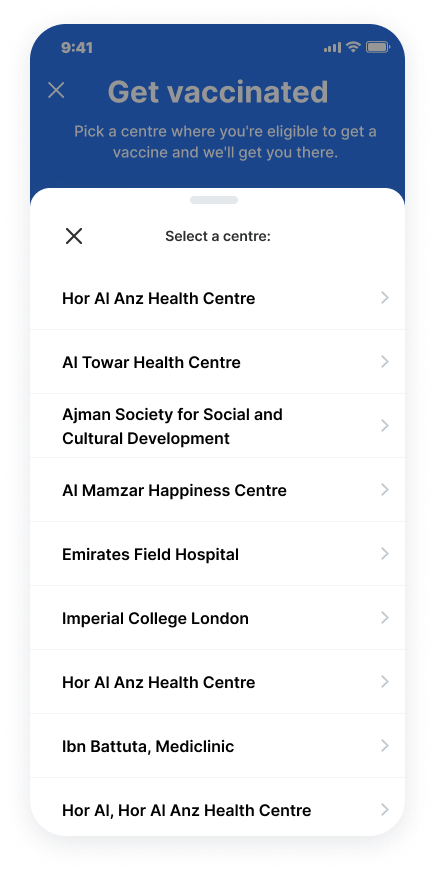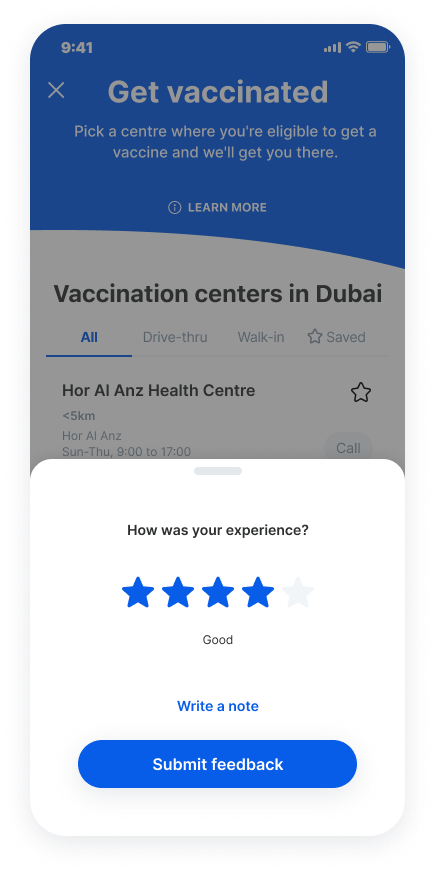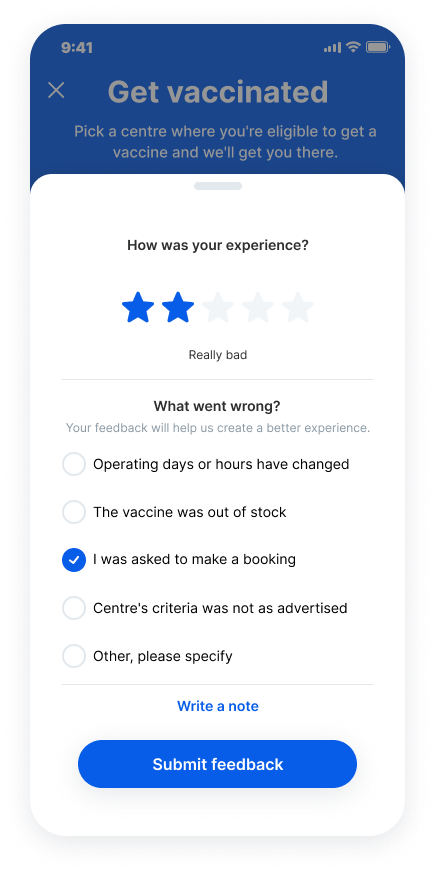 Outcomes and impact
The success of this feature was already apparent within the first 2 weeks of launching. Since the feature was primarily content-driven, I can proudly say that my work has made an impact.
My biggest take away form this project is that when you have a Project Manager that trusts your expertise and is always open to brainstorm and debate copy, design and the overall user experience together, the process becomes seamless and work becomes a joy.
70%
rated the experience 4/5 stars
140%
increase in trips to vaccination centres
(April 2021)
100K +
widget Interactions
(April 2021)
480 +
shares
(first 2 weeks)
Our COVID feature in the news: